The latest DEVO related news.
Spuds, Listen to this - a very informative & insightful interview with Gerald V. Casale and Mark Mothersbaugh.

The Sound of Young America

Exciting News, Spuds!

New DEVO Album "SOMETHING FOR EVERYBODY" to Stream Exclusively in Advance of Release on Colbertnation.com Starting Today, June 10th!

DEVO to Perform Live on TV Next Week!

BURBANK, CA--(Marketwire - June 10, 2010) - Electro-pop icons DEVO are pleased to announce the release of their first full-length album in 20 years, "SOMETHING FOR EVERYBODY," this coming Tuesday, June 15, 2010. To celebrate the album's release, fans can hear the album in its entirety beginning today, June 10th, exclusively at www.colbertnation.com for one week only. This will be the first complete airing of the full album anywhere, so be sure to log in!

Then on June 16th, DEVO will perform live on Comedy Central's THE COLBERT REPORT that evening airing at 11:30PM EDT/PDT and 10:30PM CT.

Want more DEVO on your TV set? As previously reported, DEVO will also appear on THE LATE SHOW WITH DAVID LETTERMAN the day before -- Tuesday, June 15th -- the day "SOMETHING FOR EVERYBODY" is released. Tune into CBS at 11:35 EDT/PDT. But wait, there's more! On June 18th, DEVO will also perform on LIVE WITH REGIS & KELLY. Tune into ABC at 9:00AM EDT/PDT. You won't want to miss these DEVO televised happenings so check local lists for all of the above.

Be sure to go to www.colbertnation.com starting today!

Remember, later is now! We're all DEVO!
Greetings, comrades!

A few news items that are definitely DEVOtee worthy:
First Round of Confirmed 2010 Tour Dates:


| | | |
| --- | --- | --- |
| Date | Venue | City |
| June 5th | KROQ Weenie Roast | Irvine, CA |
| June 19th | Crown Theater | Las Vegas, NV |
| July 2nd | Anchor Inn | Omaha, NE |
| July 3rd | Minnesota Zoo | Apple Valley, MN |
| July 4th | Summerfest | Milwaukee, WI |
| July 6th | Power Center | Ann Arbor, MI |
| July 9th | Trib Total Media Amp. | Pittsburgh, PA |
| July 10th | Forecastle Festival | Louisville, KY |
| July 28th | Chastain Park Amp. | Atlanta, GA |
| Aug. 1st | Osheaga Music & Arts | Montreal, Canada |
| Aug. 4th | Celeste Center | Columbus, OH |
| Aug. 6th | Lollapalooza | Chicago, IL |
| Sept. 18th | Arizona Fall Frenzy | Phoenix, AZ |
We will keep you posted on any new confirmations!
------------------------------------------------
DEVO In Upcoming Futurama!


More Devolved TV! DEVO will make an appearance on the animated series, Futurama! In the 100th episode special, Mark Mothersbaugh and Devo campaign for mutant rights - Leela's parents are second-class, mutant citizens who live underground in the sewers. The members of Devo have mutated over the years, and Mark Mothersbaugh helps out in their campaign for equality.

Twenty six new episodes of the show will be unveiled on Comedy Central, and the first half of season 6 kicks off June 24.
Futurama Info

--------------------------------------------
New Tattoos from DEVOtees
There are 6 new DEVO tattoos in the Chosen Mutations gallery at Devo-Obsesso.com... sent to us recently by dedicated DEVOtees from around the world.


| | | |
| --- | --- | --- |
| | | |
| | | |

Pictured from L to R starting at top: Steve Piper, Christy Duhon, Kathy Anderson, (Unknown Spud at Coachella), Andrew Haynes, and a 2nd tatt on Steve Piper.

Keep 'em coming! We're now up to over 140 tattoos!

See the full "Chosen Mutations" Gallery

---------------------------------------------------------------
DEVOtional 2010: A Decade of DEVOtion!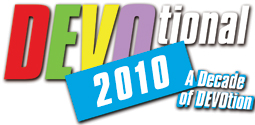 Don't miss the 10th Anniversary of Planet Earth's largest gathering of DEVOtees!
DEVOtional 2010: A Decade of DEVOtion!
Aug. 27th/28th – Cleveland, OH - Beachland Ballroom
Come meet spuds from all over the world, and indulge in all things De-vo. There are always great bands, great people, and more spudwazz than you've ever seen in one building!

More DEVOtional Info
----------------------------------

That's all for now. I will be at all the DEVO shows this summer, and I hope to see you spuds along the way!

Duty Now,

Michael Pilmer / Devo-Obsesso
for DEVO, Inc.